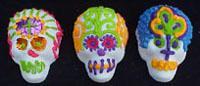 I have long been a fan of Mexican folk art that celebrates El Dia De Los Muertos, or The Day of the Dead. This special holiday focuses on gatherings of family and friends to remember friends and relatives who have died.

The celebration occurs on the 1st and 2nd of November. Traditions include building private altars honoring the deceased, using sugar skulls, marigolds, and the favorite foods and beverages of the departed, cleaning graves, and visiting graves with these as gifts.

This week, a family owned company, Mexican Sugar Skulls (www.MexicanSugarSkull.com) is teaming up with my favorite source for organic baby clothes to offer a great Dia De Los Muertos prize pack at Go Natural Baby Blog!

You can enter to win $59 worth of prizes, including a sugar skull kit, complete with skull molds, and a Day of the Dead tote bag!

To enter, visit this post on the Go Natural Baby Blog and leave a comment according to the instructions provided!

The deadline is October 17th, so you will be receiving your prize in time for some Halloween fun with your family!