Today is an exciting day at one of my favorite organic baby and children's clothes stores, Go Natural Baby!

Firstly, I have my very own guest post on the Go Natural Baby Blog! Go check it out, and maybe even leave a comment or "digg it" to make it seem like I have fans *wink*.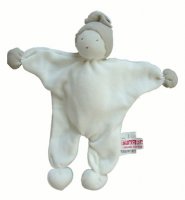 Also, there is a HUGE BLOWOUT SALE staring today, with 40-50% off of organic baby bedding, blankets, some clothing items, and dolls!
Personally I'm drooling over this adorable Organic Cotton Baby Doll by Sckoon, which is now only $6.00!!!

Go shopping to your heart's content using coupon code: joy at checkout (stock up for Christmas and future baby showers!) Be sure to save me one of those dolls though...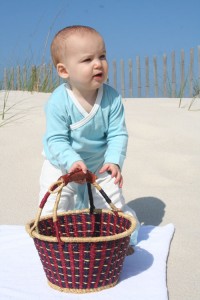 Also on sale are these amazing fair-trade baskets, hand-woven in the historical town of Bolgatanga, Ghana in West Africa.

The Gathering Basket, pictured with Deeds, is now only $15! These baskets are truly works of art. You can feel the quality as soon as you wrap your fingers around the leather handle.

The pail shaped basket is also on my list; at only $13.20 I cannot pass this up!

I saw baskets similar to this at Whole Foods Market one time for about $40!

Jojo wanted one then, but I said "DON"T TOUCH THAT!" (I'm always afraid that high prices might be contagious; I can hardly shop there without hyperventilating). Now he has one from Go Natural Baby, so he shouldn't be traumatized.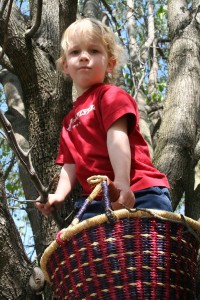 Besides the attractive design, this basket is woven of soft elephant grass fibers. The handle is wrapped in hand-tanned leather. It smells like an open field on a breezy spring day. It is a piece of art!
Sometimes my desire for a good bargain meets conflict with my desire for high quality, eco-friendly, and socially conscious products. Things like this beautiful basket push me closer to the good.
This mama-owned company is "bringing the richness of organic cotton and the values of fair trade into the lives of our children". What a worthy goal!